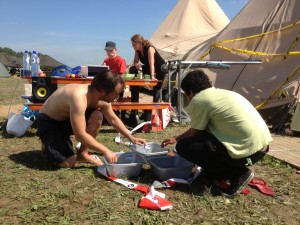 At ten o'clock this morning the first kids showed up at the Noisy Square Village to join the Fabschool Kids. Ready to be inventive en do some serious programming. Scratch and MaKey MaKey were waiting for them. Along with some cucumbers, apples and bananas.
In no time the Curious Seven had invented a working banana piano and a drumkit made of bowls filled with water. To drum the machine like a pro just use your hands and feet.
In the meantime two other kids developed an animation short, starring a cat in a room. One cucumber and two apples were used to control the poor animal. Every time he hit a wall, a table or chair, loud noises engulfed the Noisy Square Village.
It's good to know the kids won't keep all that they have learned to themselves. Some said they will continue using Scratch and MakeyMakey at home and play with their friends. Thanks to the Waag Society and Christine, Henk and Ilja.
Sorry you missed it? On Friday Fabschool Kids will be back at the Child Node. On Saturday kids are welcome at the Hardware Hacking Tent (close to the Fablab Bus)
And guess what? After the kids had gone adults took over the drumkit.