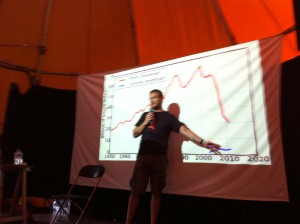 Niels ten Oever of Free Press Unlimited introduce the StoryMaker Android app. StoryMaker provides an editing suite for citizen journalists as well as lessons about storytelling and security. To get a better idea of what StoryMaker is watch the video below.
Niels: "I am not going to give the standard product placement pitch here. Instead I want to tell you why we created StoryMaker. I started out installing radio stations in Ethiopia. There is a big problem with equipment there because of resource constraints." Turning a mobile phone into an editing suite brings down costs significantly.
Another problem is that journalism is broken at the moment, said Niels. Journalists interview political leaders and broadcast their views and spins. All the journalists are tumbling over each other to interview the same person but the people who are affected by the policies aren't heard.
Advertisement revenue for newspapers has dropped to the level of the 1950's. At the same time journalists are expected to produce much more content. Most journalists don't have time for investigative journalism. They're just churning out content.
"We should cut out the middle man", says Niels, "and get directly involved in the news creation process." If everybody becomes both consumer and producer of  the news, media will become more of a public conversation. The 20th century ideal of journaling the objective truth will than be replaced by interobjective truth telling.
The rise of the Internet in the '90s and of mobile phones in the '00s gave rise to citizen journalism.  "But we aren't there yet", says Niels, "just throwing data online without context won't get the message out. There is a need for proper storytelling.
Some media training is needed but physically getting citizen journalist in a room for group training may not be secure and not be very effective. This is where StoryMaker comes in. It integrates the curriculum in the daily workflow of the citizen journalist. that's why it is equipped with an editor and a publishing suite.
These technologies are liberating us whilst at the same time creating new chains. Nasty stuff like Phone tracking and data mining put the journalist at risk. If citizens become journalists they'll need source protection. But how do you do that when you are working on an insecure platform. That is why StoryMaker also pays much attention to security.