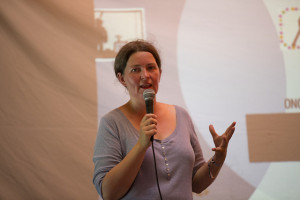 Anne Roth took the Noisy Square stage to talk about the work of Tactical Tech. TT has been around for ten years and helps journalists, activists and communities at risk to improve their online security. The NGO started out as an open source promoting agency but over time it became clear that online safety was also an important issue.
The program that came out of that has three pillars: awareness raising, behavior change and capacity building.
The Me And My Shadow program raises awareness. It is a website that shows people that everyone leaves digital traces and how that happens. The site also points to tools, mostly web browser add-ons, which help increasing security. Another way of raising awareness are the TT flash events: showing up on big festivals to inform people about digital security.
To inspire people into behavior change there are two strategies: scare people into changing their habits by telling them horrifying  stories about what is really going on. Another approach is to make behavior change attractive. Ono the Robot is an example of the carrot strategy. Ono is a cute little figure that advises people how to secure their communications. There are also Ono parties where people come together to learn about security.
To build capacity TT developed Security In A Box is a collection of software packages that addresses Windows users and helps them set up measures like hard disk encryption and secure email. The SIAB site is full of handbooks and how-to's about how to install different kinds of software.
TT is looking for developers to help them develop more secure tools. The Snowden disclosures make it clear to everyone who wasn't sure yet that Skype is completely insecure. The alternative is Jitsi but that could greatly be improved. So TT is looking for coders to work on these projects.
TT does not have a platform where volunteers can easily join. Bits of Freedom shares its experience about how to give volunteers an easy way to join. BoF has a volunteering platform where people can sign up and list their skills and interests. Volunteers can also propose projects for which others can sign up.
Photo by Frederic Jacobs